Containers for Change
Please consider supporting Reiki Australia by donating your containers
Containers for Change - Help us Fundraise in Queensland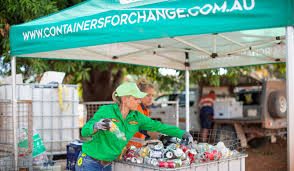 Reiki Australia is a Not For Profit Organisation, which means we rely primarily on volunteers and donations to be able to provide services and support for our members. Containers for Change are an organisation that recycle glass/plastic/popper bottles and pay 10c to Reiki Australia for each one received.  This program is currently working in Queensland, where there are plenty of donation drop off points, and in some suburbs they pick up for free!
If you would like to donate your items through Containers for Change, and donate the proceeds to Reiki Australia, here is your Code for the Online App: SCHEME ID:  C10612892.
Containers for Change has created a better way to recycle. By offering 10 cents for every eligible container returned, they're helping charities and community groups to recycle more, helping charities earn money while creating a cleaner Queensland for everyone.
All of this has helped to reduce beverage container litter in Queensland by 54% across the state.
Since its launch in 2018 Containers for Change has had a huge impact on communities across Queensland.
As at April 2021, more than 4 billion containers have been returned for recycling which has delivered more than $400 million back to charities, community groups and individuals in refunds.
Here's how you can help!
Virtual Donations: Help us out by dropping off your containers to any QLD refund point.  Use our Scheme ID: C10612892 or scan the barcode and we receive 10c for each container you donate! 
Container Collect : Get your containers picked up for FREE!  Book your collection online, prepare your bottles and label your bags with our Scheme ID: C10612892
Don't have time to volunteer directly, maybe you can help us fundraise by collecting containers? 
Help the environment through Recycling whilst helping Reiki Australia raise much needed funds.
Share our posts with you friends and family to increase exposure to general public and get our Scheme ID: C10612892 seen more often to help Reiki Australia.
You can download the App, save our scheme ID/barcode/QR code into the app or your google wallet.
The QLD website is:  https://www.containersforchange.com.au/qld/
From here there is a dropdown bar on the right hand side which will take you to the different subjects such as:
Collection points – https://www.containersforchange.com.au/qld/wFull
How it works – https://www.containersforchange.com.au/qld/how-it-works
Donate to Reiki Australia – https://www.containersforchange.com.au/qld/donate-your-refund?keyword=reiki&category=all#findacharityblock
Don't forget, you'll need our Scheme ID: C10612892 to make the donation, o don't forget to add this when donating.
Help us so we can continue to help you, our members. Together we can make a difference!