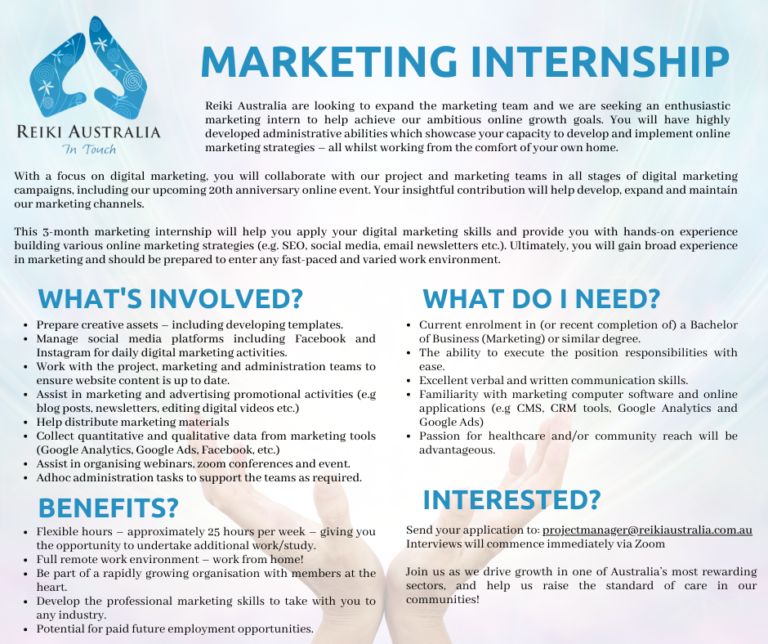 Enquiries & Applications: projectmanager@reikiaustralia.com.au
Reiki Australia is always on the look-out for committed talented people to join us. From time we have positions available.  The following positions are now available with Reiki Australia:
POSITION:  FINANCE DIRECTOR (VOLUNTEER)
Working alongside the Board of Directors, the Finance Director is hands-on with the company finances and is also commercially aware, advising on the best path of growth for the organisation.
Some of the tasks the role includes, but not limited to:
Develop and review budgets monthly and annually
Liaise with Bookkeeper/Accountant/Chairperson and Operations Manager as necessary
Provide leadership to the Board's Finance and Accounting strategy, to optimise the company's financial performance and strategic position
For more information and to view the position description
Please email the Chair at nicole@reikiaustralia.com.au 
---
POSITION:  DISTANT REIKI CO-ODINATOR – VOLUNTEER
Is Distant Reiki healing a part of your Reiki practice? Are you well-organised and able to establish and maintain effective systems? If so, you could be the
person we are seeking!
Some of the tasks the role includes, but not limited to:
Monitor the Reiki Distant healing purchase notifications
Manage the team of practitioners with times and sessions for the treatments
Report to the team leader of Reiki Practice, giving a monthly update to inform the Project Manager and Board
To apply for the role you need to be Reiki Australia Member.
For more information or to apply for this role CLICK HERE TO DOWNLOAD the position statement.
To apply for the position please email your application, addressing all criteria outlined in the position description, attaching any applicable documentation to:
distanthealing@reikiaustralia.com.au 
---
POSITION:    SOCIAL MEDIA TEAM – VOLUNTEER
The purpose of this position is to utilise current interaction strategies to improve the reach of Reiki Australia's social media posts.
Some of the tasks the role includes, but not limited to:
Engagement strategy
Comment on posts created by our target audience group immediately before Reiki Australia posts go live (Instagram)
Liaise with Reiki Australia's Membership and the public
Understanding of how interacting on social media improves post reach
Commitment to the shared vision of Reiki Australia in advancing the professional and lay practice of Reiki.
To apply for this position please email: opsmanager@reikiaustralia.com.au
---