Reiki Australia is founded on volunteers all working together for a common goal. We provide leadership, standard practices and support for our members and the wider Reiki community, with an ongoing dedication to uphold the Reiki Precepts and honour our lineage and those who came before us.
If you have spare time available, a caring nature, and a big heart, we need YOU! We need people who embody the principles of Reiki and are willing to share their gifts to promote Reiki and expand worldwide awareness of this wonderful healing modality.
This is your way to make a difference and contribute to our Reiki Community and change our world. Every person makes a difference, and we would love you to join us if you have skills you are willing to share. Don't hesitate, and don't be shy. WE NEED YOU. 
Read below for specifics, but if you have any great ideas, we'd also love to hear from you!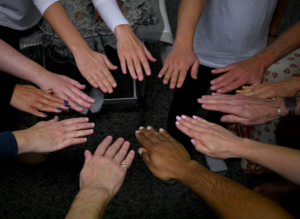 Reiki Australia is always on the look-out for committed talented people to join us. From time we have positions available.  The following positions are now available with Reiki Australia. If you are able to help, please let us know.
Financial Director Volunteer
Working alongside the Board of Directors, the Finance Director is hands-on with the company finances and is also commercially aware, advising on the best path of growth for the organisation.
Some of the tasks the role includes, but not limited to:
Develop and review budgets monthly and annually
Liaise with Bookkeeper/Accountant/Chairperson and Operations Manager as necessary
Provide leadership to the Board's Finance and Accounting strategy, to optimise the company's financial performance and strategic position
For more information and to view the position description please contact us using our contact form.
Distant Reiki Co-Ordinator Volunteer
Is Distant Reiki healing a part of your Reiki practice? Are you well-organised and able to establish and maintain effective systems? If so, you could be the
person we are seeking!
Some of the tasks the role includes, but not limited to:
Monitor the Reiki Distant healing purchase notifications
Manage the team of practitioners with times and sessions for the treatments
Report to the team leader of Reiki Practice, giving a monthly update to inform the Project Manager and Board
To apply for the role you need to be Reiki Australia Member.
For more information or to apply for this role CLICK HERE TO DOWNLOAD the position statement.
Website Maintenance Volunteer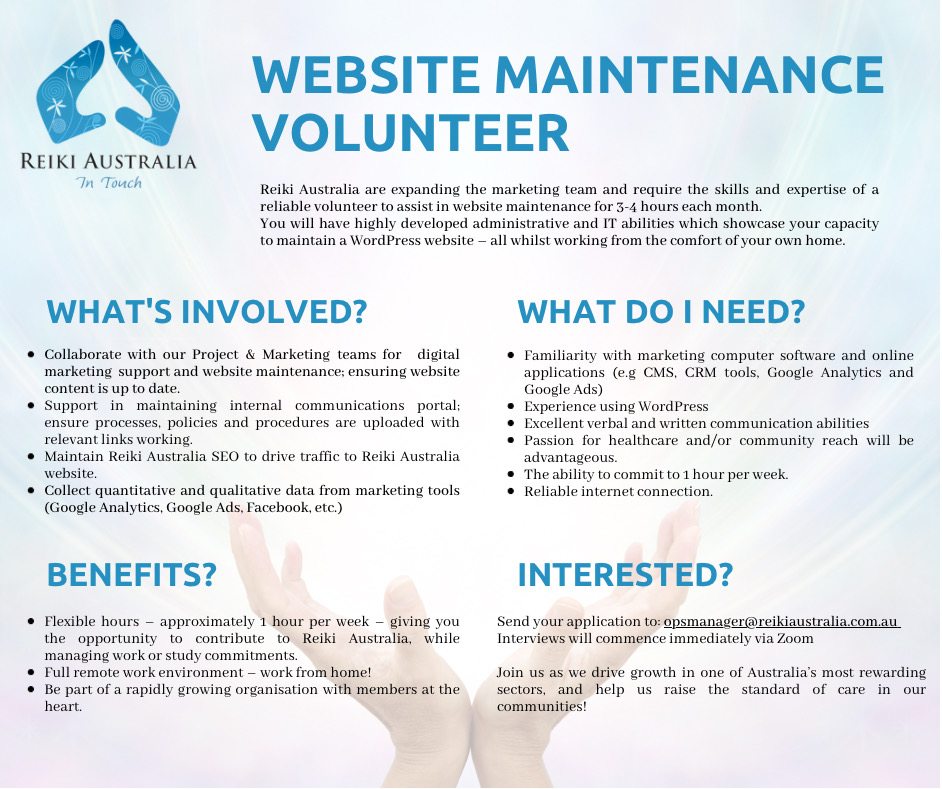 Operations Manager Needed
We are currently seeking a person to fulfil the role of Operations, to oversee the general operations for Reiki Australia. 
A ne Job Description is being written up, however, if you hav experience in this field, and would like to know if you have what we need and any further information, send your enquiry to : chair@reikiaustralia.com.au