Reiki Australia Events
We hope you can join us at an event soon!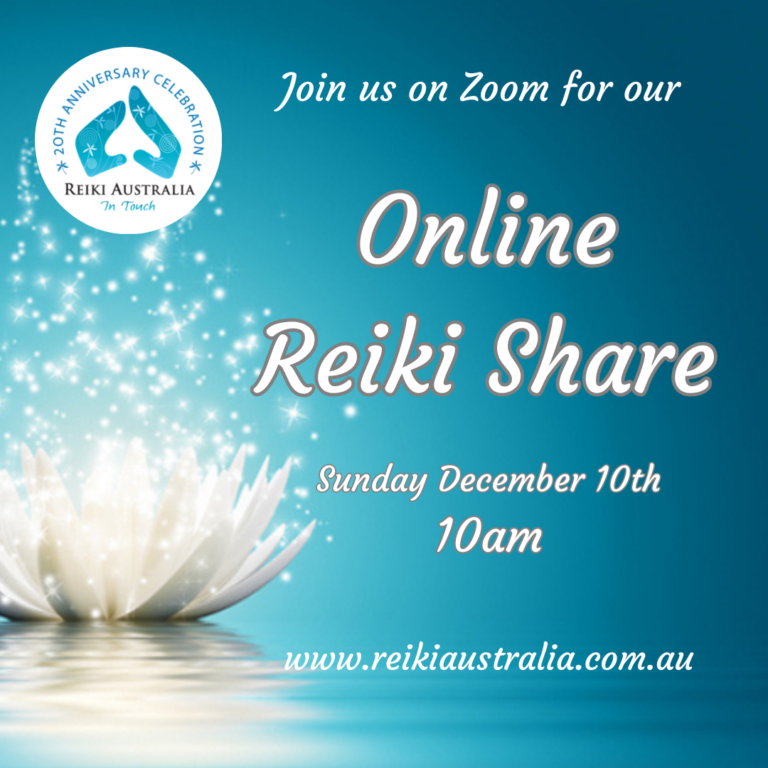 Reiki Australia would like to invite you to join us for our Online Reiki Share and Meditation on Sunday December 10th at 10am (Sydney Time) via the Zoom Platform. This event is FREE for members and $10 for Non-Members.
On Sunday December 10th Carol will be leading you in a Reiki Self-Treatment and meditation. We will also spend a few minutes sending healing to others, so bring your list!
Our online session commences at 10am sharp, so please be on time as you won't be granted access once the event has started, so as not to disturb the flow of energy and intention. The session should only go for an hour, although we have scheduled 1 1/2 hours, to make sure we have enough time for everyone to connect and share the energies of Reiki and love. The Zoom Link will be sent to you before our Event. 
We will also be rolling out more of these Reiki Shares and other events in 2024, some just for members, so if you would like to join Reiki Australia, check our Membership Page.
To register for the Event, follow the link above.
Love and Reiki Blessings,
The Reiki Australia Team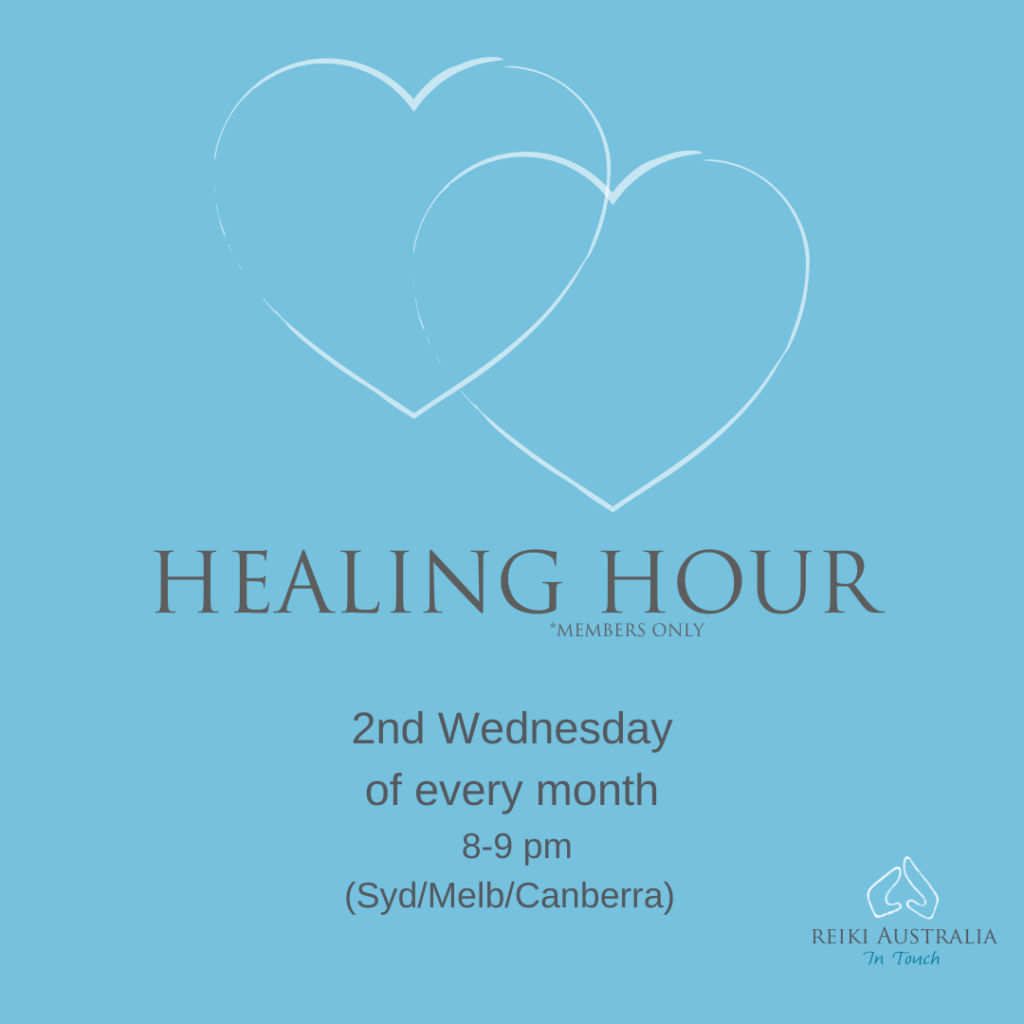 Reiki Healing Hour for Members, Family and Close Friends
This is a FREE group healing session offered to all active Members in any membership category.
Members Only  Registrations open the Friday before event.
Registrations close at 5 pm Sunday before event.
For full details
Visit dedicated Facebook Healing Hour Group page OR
Reiki Healing Hour page on the Member Portal
Reiki healing will be sent as of 8:10 pm until 8:40 pm
(Sydney Time)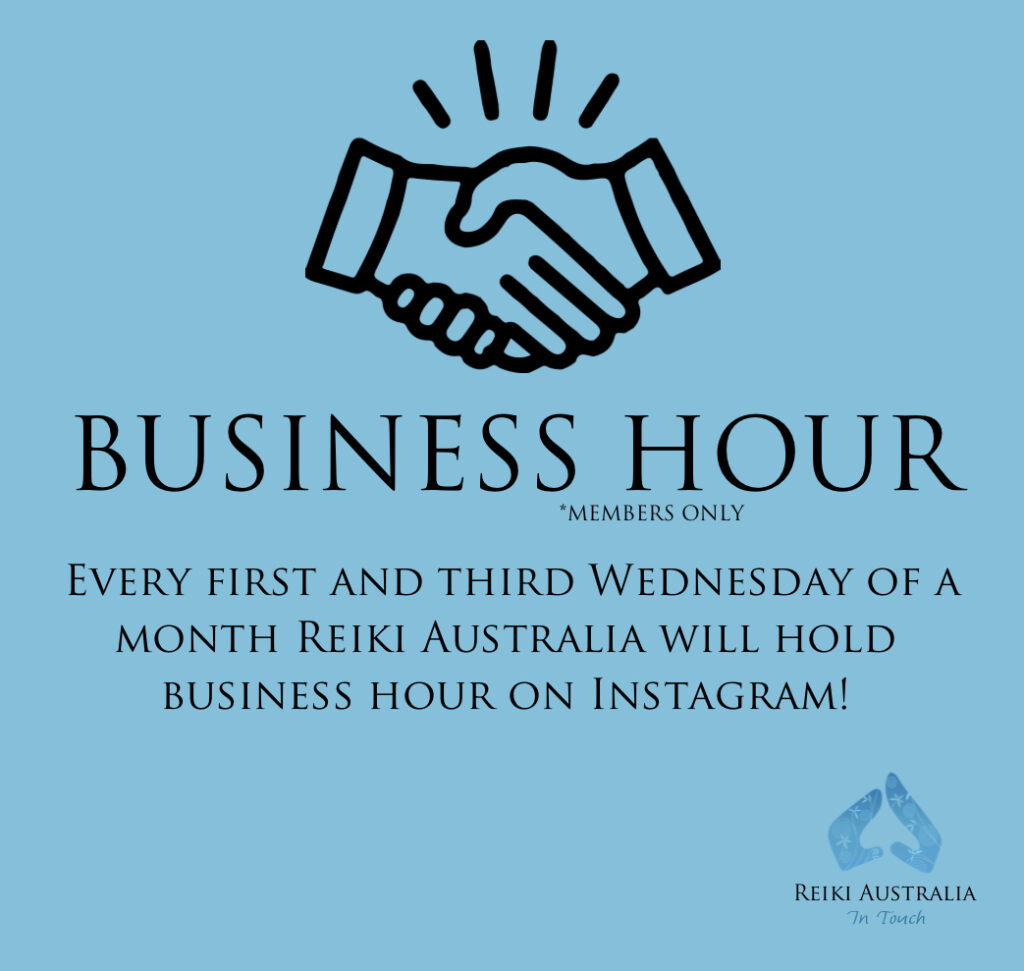 Reiki Australia are committed to helping our Members boost their businesses and promote Reiki in their communities.
On the 1st and 3rd Wednesday of each month, between 8-9pm Reiki Australia holds business hour on Instagram!
Business Hour is there to help support you with great ideas to help your business grow and flourish.
Head over to our Instagram and see who is featured!
Don't forget to 'like' our profile so that you won't miss a thing.
Celebrating our 20th anniversary in 2022!
Reiki Australia was Founded on 24 October 2002. In 2022 it was our 20th anniversary which also marked 100 years of Reiki!
We were honoured to hoset an amazing event with special guests, including Johannes Reindl, the current Lineage Bearer of Usui Shiki Reiki Ryoho.
Our foundation is the preservation of Reiki as a personal spiritual practice and healing art. We are a leading professional body, a reliable resource and a proactive membership organisation.
Would You Like To Volunteer?
We love offering events such as these to our members, so if you have spare time and a willingness to help like minded-people, please contact us at
projectmanager@reikiaustralia.com.au
.
We have something for everyone, no matter how much time you have available, so don't hesitate. Together we can make a difference.